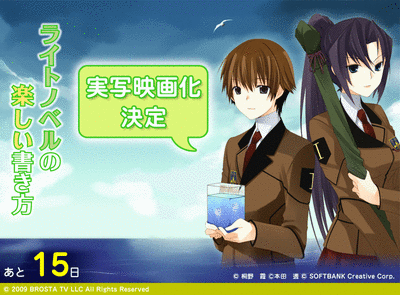 Well, I don't think any of us could have predicted this. I, like many I am sure, woke up this morning to the wonderful news that Maasa had scored an acting role in an upcomming Live Action adaption of the anime Light Novel no Tanoshii Kakikata. But not just any acting role, a starring role!
That's right, Maasa shall be playing the role of Tsurugi Yabusame, the lead female role in this movie. The character is described as the beautiful classmate who happens to be the strongest girl in school. She, however, has long desired to be 「可愛い女の子」, a "cute girl". Since Junior High School, Tsurugi has taken to writing light novels and her first won her a newcommer's writer's award. However, fearful of her strict father, she keeps her identity hidden by publishing the books using the penname "Mio Himemiya".
Tsurugi Yabusame gets writer's block, however, when writing about something she has no experience with herself, such is the case with her new light novel - a romantic comedy. Her classmate, Yakumo Atae (pictured) is one person who knows of her secret. Yakumo's cousin, who happens to be Tsurugi's editor, suggests that the two start dating so that she can get experience with romance and finish writing.
So far Maasa has been the first and only person cast for the movie. But it's rather incredible. Maasa does bear a slight resemblance to the girl, but she doesn't exactly have much history as an actress - and to suddenly be thrown in to the lead role, it's incredible.
If the movie works out well it could serve to promote Maasa in Berryz, and Berryz as a group to new fans. We're all holding our breath hoping for something wonderful.

There is no official release date yet, but from what I understand it's slated for release in 2010. Let's keep an eye out for more updates, and it'll be curious to see the actor who Maasa is to become romantically involved with.
That itself will prove delicate. To somehow create a believable relationship between the two characters without going far enough to upset wota like myself.
http://ranobe.jp/index.html